Home
> Next Auction Gallery
Updated Sept 17, 2018
Auction Preview Gallery
Stafford Auction - 15th September 2018
Nameplates (Steam)

Brass Steam Locomotive Nameplate "KNIGHT OF THE GRAND CROSS" As carried by a G.J.Churchward designed ex GWR Star class 4-6-0 No "4018" built at Swindon works in April 1908. Allocations include Plymouth Laira and Wolverhampton Stafford road from where it was withdrawn in April 1951. Cut up at Swindon Works on an unknown date. This iconic plate was purchased direct from Swindon works in 1951 for the princely sum of £1 and the original receipt accompanies this item. This is the right hand plate and has never been in auction before. In Totally Ex Loco Condition.
Ex LMS 5XP "Jubilee" Class No 45653.
Cabsides (GWR and BR)
Smokebox Numberplates
Ex LNER A4 Class Named "William Whitelaw"
Ex GWR Grange Class Named "Penhydd Grange"
Ex GWR County Class Named "County of Pembroke"
Worksplates (Steam)
Loco Tender Plates
Loco Whistles




























Ex LMS Jinty
Loco/Other Gauges
Loco Equipment Plate
Hunslet Radiator Plate
Cash Bags
Enamel Street Signs
Depot Plaques/Double Arrows
Ex Class 47 No. 47634
Ex Class 08 No. 08620 - Small Version
Ex Class 26 No. 26006
Ex Class 50
Ex Class 37 No. 37673
Ex Class 47 No. 47297
Signalling (Block and Bell Instruments)
Signalling (Hoop)
Advertising Signs
Alloy Loco Plaques
Enamel Signs




Station Facia Sign


















































































Loco Cab Fittings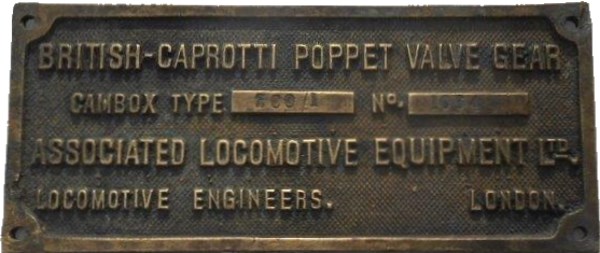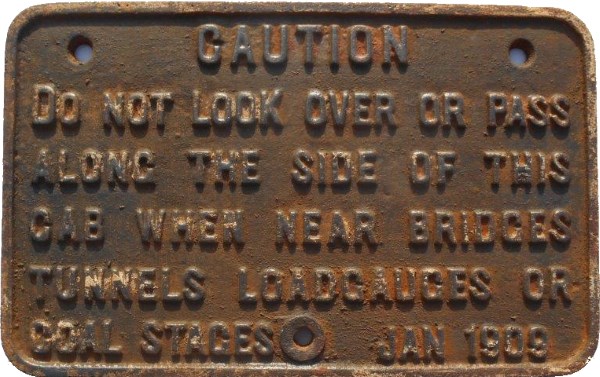 Ex LMS Black 5
Flamecut Panels
Targets (SR)
Sentinel Radiator Sword
Tram Items
Bridge Plates
Wagon Plates
Road Transport

Bus Radiator Plate
Loco Plaque (Overseas)
Nameplates (Overseas)
Cabsides and Numberplates (Overseas)
Carriage Prints
Modern Era Signs
Railway Prints
Terrence Cuneo
North Staffs Collection in our September Auction
Nameplates (Diesel and Electric)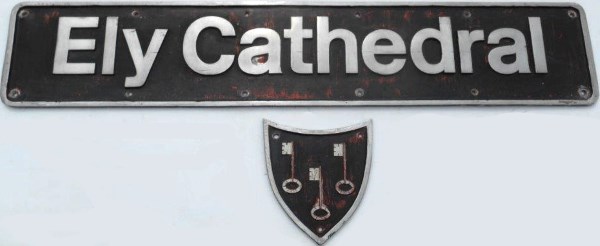 Ex Class 47 No. 47 572
Worksplates (Diesel and Electric)
Ex Class 40 No. D226/40026
Ex Class 50 EE Leasing Plate
Ex Class 76 Electric
Seatback Names
Shedcode Plates




LNWR - No. 15 - Crewe North




































































































Signalling (North Staffs Railway)
Early GWR Lamp Glass
Lamps
NBR Signalbox Desk Lamp
Train Destination Boards
Signalling (Single Line Tablets)
Signalling (Single Line Key Tokens)
Keswick No 2 - Braithwaite

Signal Box Name Boards
Totems
BR(ScR) Totem - 4ft Version
Very Rare

Rare Books
Door Plates
Railway Clocks
Loco Prints
Railway Company Crests
Carriage and Destination Boards


BR (ScR)
Cast Iron Signs
Timetables
Highway/Road Signs
French Railway Enamels
Photographs
Miscellaneous Collectibles
LSWR Luggage Rack Bracket
Rail Chair - Ex Isle of Wight Railway
Rail Chair - Ex Somerset and Dorset Joint Railway
Badge Collection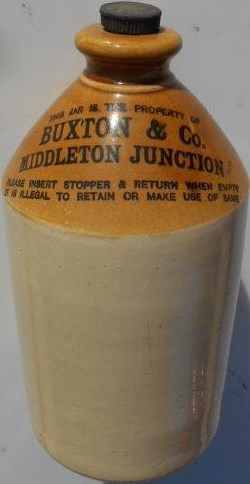 Reproduction of this Web site, in whole or in part, in any form or medium without express written permission from Railwayana Auctions UK Ltd is prohibited.
Railwayana Auctions UK Ltd - Company Reg No. 04340893. Registered Office: Llys Edmund Prys, St Asaph Business Park, St Asaph, Denbighshire, LL18 OJA.