Always expect the unexpected in the world of railwayana.

S.O.S! Incredible Rescue - Historic Nameplate retrieved from wheelie-bin!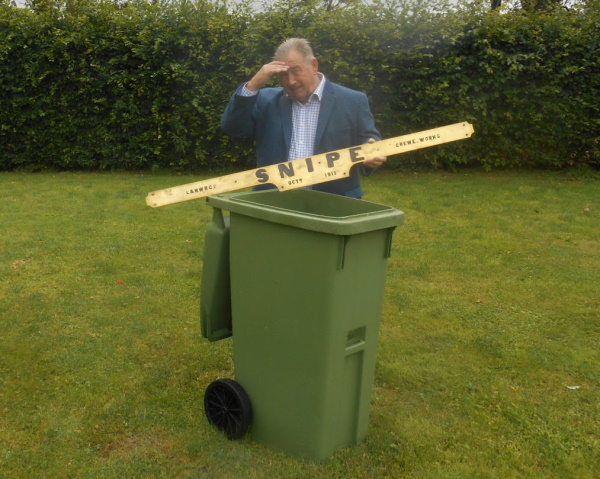 Neil Booth, Specialist Railwayana Auctioneer and Director of Railwayana Auctions UK Ltd, was recently invited and instructed to retrieve and consign a deceased gentleman's collection of railwayana in Ashover, a stone's throw from Chesterfield, Derbyshire.

His widow advised that she couldn't "lift the heavy signs with numbers on" and that she had tried to put "the long thin one in the bin but the lid wouldn't shut and I didn't think the bin men would take it like that!".

Needless to say that the heavy signs to which she referred were named G.W.R Cabside Numberplates - but to crown it all, the 'thin one' was no less than a genuine L&NWR brass nameplate from 4-4-0 No. 1730 "SNIPE" (LMS No. 5376 from July 1927, then No. 25376 from October 1936) built at Crewe Works in October 1911.

Said Neil: "We were so close to nearly losing what is an important and historic nameplate. I must say that I am grateful that that lid didn't close - and so was the widow when I explained that it could fetch as much as £10,000 at auction!".

The Nameplate is included in the September 10th - 12th.

Special Crewe Heritage Railwayana Postal/Email/Telephone auction of L.M.S 'Jubilee' Class items. It will be available at the Viewing Day on Saturday September 4th at Crewe Heritage Centre, Vernon Way, Crewe, Cheshire CW1 2DB. Doors open 10am-5pm. Courtesy Shuttle Bus runs between Crewe main line station and the Heritage Centre from 9am to 6pm. Usual £5 admission to Heritage Centre applies. Free admission to children under 12.
Reproduction of this Web site, in whole or in part, in any form or medium without express written permission from Railwayana Auctions UK Ltd is prohibited.
Railwayana Auctions UK Ltd - Company Reg No. 04340893. Registered Office: Llys Edmund Prys, St Asaph Business Park, St Asaph, Denbighshire, LL18 OJA.